Without a long-term vision, there can't be sustainable results. We apply this philosophy to the development of our products – always based on the principles of a timeless design and a long lifespan – and to the reduction of our carbon footprint. While the impact of many green measures is already tangible today, there are still important steps to take. The state of affairs

Low wattage, long life cycle
All kreon lighting solutions have something important in common: energy efficiency and a long lifespan are always central. We create designs that remain relevant and can be adapted to suit your own taste and personal needs. This is how we encourage our customers to keep using them in different forms at different stages in their lives. About 90% of our products can be taken apart and reused.
Our LED lighting produces a high level of lumens with low wattage. This efficiency reduces energy consumption and therefore CO2 emissions and also ensures that the lighting lasts a long time. Based on thorough research and an analysis of the specific requirements of each room, our lighting design team looks for the perfect balance between lighting comfort and energy consumption. Lighting studies are essential to design efficient, comfortable and sustainable lighting systems.
Recycled aluminium
All our profiles are made from 98% recycled aluminium – the highest possible percentage to guarantee a long lifespan. Our supplier, E-Max, belongs to the same holding company as kreon. The aluminium we use is therefore not only environmentally friendly; it is also sourced locally. In addition, the aluminium shavings left over in our production process are returned to E-Max for reuse. The numbers don't lie: the production of conventional aluminium requires 15 MWh/tonne of energy, while for recycled aluminium it's only 0.75 MWh/tonne. This amounts to 95% fewer raw materials and 90% fewer CO2 emissions.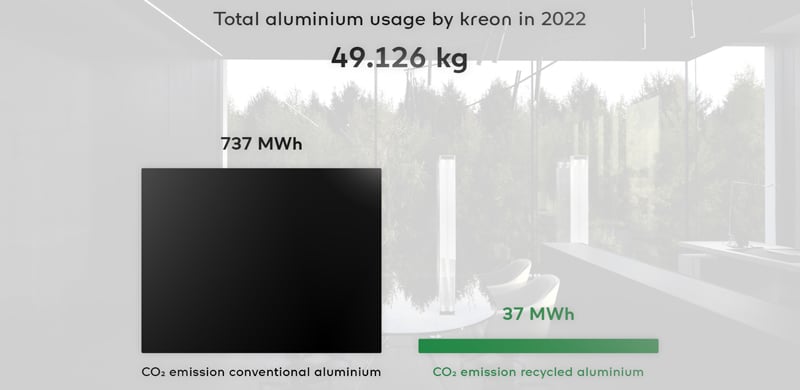 Minor changes with high impact
A recent environmental audit of each department confirmed that with small changes we can make a huge difference. Some examples: by recycling used materials every day, slightly lowering the temperature of our offices and production halls and installing efficient high-speed doors, we are already taking significant steps towards greener and more sustainable business operations. We also started a working group to optimise warehousing so that we can use our resources more efficiently.
Heat pumps and solar panels provide sustainable energy generation, while rainwater flushes our toilets, reducing our water consumption. You will find a dozen electric charging stations in our parking lot; we encourage environmentally friendly commuting with bicycle leasing; and infiltration trenches create a beautiful natural landscape around our building.
An environmentally conscious workplace
Achieving ISO 14001 certification was a great acknowledgement of all these ecological measures. But the best reward is undoubtedly the positive impact we see every day in the workplace. The new vibe is a promising one and it is encouraging to see how many employees consciously recycle, cycle to work or wear a slightly thicker sweater because of the lower indoor temperature, to name just a few examples. Everyone within kreon is on board with our ambition to create a greener future and a healthier workplace.
We need to do even better
We may have achieved a lot in terms of sustainability, but there is still a lot of work to be done. In the area of recycling alone, there is still a lot of room for improvement. Identifying materials more thoroughly, for example, to separate waste more efficiently. This can give us valuable insights: if we understand which materials are easy to recycle and which are not, we can make smarter choices in the future.
kreon's goal is to reduce its carbon footprint by 10% every year. By further greening our energy sources, continuing to reduce our consumption and expanding our circularity further, we will succeed and contribute to a cleaner planet.