Just like with "design", the meaning of the term "architectural lighting" has lost its strength and meaning over the years. Especially because the concept is inappropriately used for almost any kind of lighting in architecture.
Architectural lighting or 'architectural lighting'?
A lot of people use "architectural lighting" when they refer to the illumination of bridges, the exterior of buildings or other structures. As this purely involves "exposing architecture", this is too narrow a definition for what "architectural lighting" really is.
Briefly described, "Architectural lighting" can be seen as the type of lighting that arises from and for architecture. In a sense, architectural lighting is directly opposite decorative lighting. This contradiction can mainly be deduced from the thinking that precedes the preparation of a lighting plan.
The process for designing an architectural lighting plan takes into account:
The nature of the activities for which lighting is provided

The required amount of light

The color of light or light temperature, as this may affect the perception of specific objects and the space as a whole

The distribution of light in space, both indoors and outdoors

The effect of lighting on the user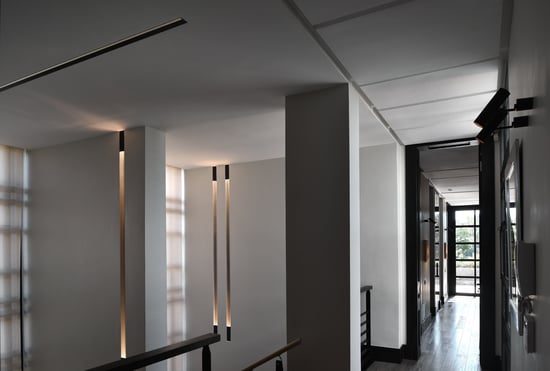 The combination of architecture and lighting is used to enhance the experience of a building or space. Thus, lighting has always been in service of architecture. But to establish a correct definition of architectural lighting and test it to the Kreon product philosophy, it is therefore necessary to understand the building blocks of modern lighting.
From "light planning starting from the space"
To "light planning from the boundaries of this space"
This conceptually new way of lighting planning was commercially marketed by Kreon in 1987 as a part of the up-side-down products.
The balance between natural and artificial light
Every day will eventually also turn to night. Which means that artificial lighting must also be deeply intertwined with the architectural design process to enhance architecture both qualitatively and quantitatively. Certainly when sunlight, the main natural light source, falls away.
Light study
With specialized lighting simulation software, a lighting plan can be created for a project before it is executed. This enables architects and lighting designers to analyze whether the proposed lighting setup will also produce the desired illumination and lighting effects. The contrast between light and dark zones is clearly mapped as well as the color temperature of the light.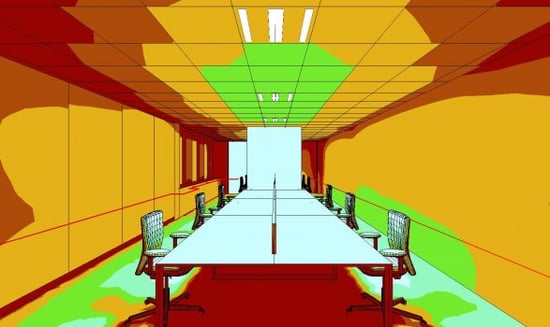 This way, light quality and quantity will be a scientific approach to be seamlessly integrated into your architectural plan in stead of a mere gamble. Your lighting plan receives a new dimension and lighting gets the attention it deserves throughout the design process.