Interview Van Zon
Interview with Koen Beckers, technical advisor at Van Zon and Geert De bruyn, owner of GDb engineering studio, a much sought-after expert in sustainable construction about the new head offices of Horeca Van Zon in Lommel (BE)
Koen Beckers - technical advisor Van Zon:

"Our goal was to build 2,5 times larger without having to spend 1 penny more on our energy bill. This called for smart choices."
The head office of Horeca Van Zon has been located in Hamont-Achel since 1980. Thanks to the steady growth of the company during the past 3 decades they have outgrown their head office. Due to the lack of space and expansion possibilities, they were obligated to relocate. The result? An impressive future-proof newbuild where they have room for their logistic department, warehouse (with both cooling and freezing areas) and their offices. Energy efficiency was the key focal point of the design and building process.
Koen Beckers, the technical advisor at Van Zon, was in charge of the project and is incredibly proud of the result. The big move from Hamont-Achel to the new head office of 172,222 sq. ft./16.000 m² in the Kristalpark in Lommel took place in November 2020. "I've planned this project for 2 years. We knew what we wanted and needed in the very early stage of the process, as this was not our first newbuild project. We've had a previous building project in Beerse and learnt a lot from this. The best tip I can give you? Surround yourself with experts in their fields."
"The best tip I can give you? Surround yourself with experts in their fields.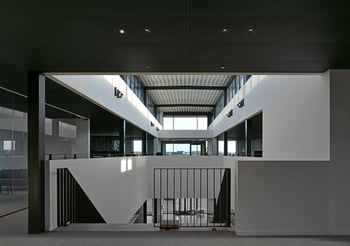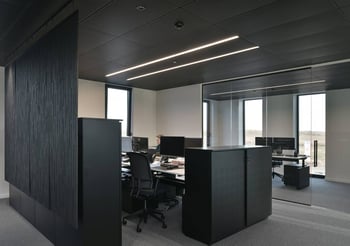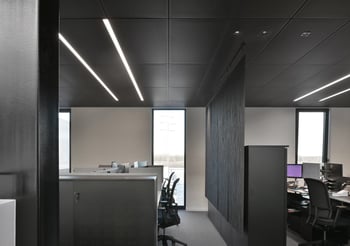 Energy costs
Horeca Van Zon is a food and catering wholesale company with 30,000 products in stock. Everything a catering company might need is available at Van Zon: kitchen appliances, fresh meat, fish, produce and a selection of frozen foods. The head office is also a distribution centre to retail and catering companies. In other words: we need a big storage capacity with both cooling and freezing systems in place.
"It can't come as a surprise that the energy cost is a big part of our operating budget. Therefore, we had one main focus from the start of our new project: energy efficiency" says Koen Beckers. "That's why we contacted energy efficiency expert, Geert De bruyn, early on in the process as we have collaborated with him during previous projects. Together we explored the use of new techniques and the choice of materials."
"energy costs are a big part of our monthly budget. That's why we had one main focus right from the start of our new project: energy efficiency."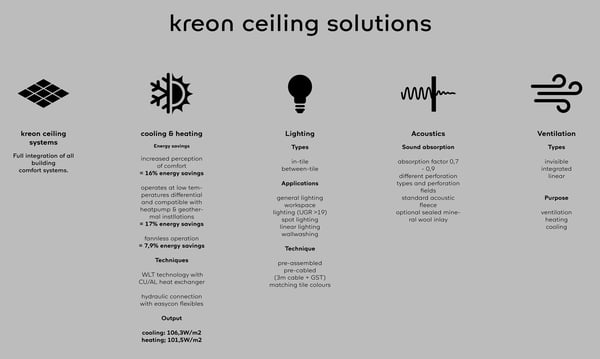 Healthy work environment
"That's what brought us to kreon. Our office space is 21,527 sq. ft./2.000 m² and we wanted to create a healthy, comfortable workspace for our employees. With an open plan design that fits and complements the total design and functionality. We chose vektron ceiling solutions because it is both a radiant heating and a cooling system. And on top of that, it looks great as well. We did hesitate because the cost of an active ceiling is initially higher, but when you do the math and look at the bigger picture, you quickly see the financial benefits."
"A ceiling that can regulate room temperatures using radiant heating and cooling technology is initially more expensive but if you look at the bigger picture, it will quickly be more profitable."
"The optimal acoustics are definitely an advantage just like the convenience of maintaining it. Thanks to the smart integrations and the kreon lighting, the ceiling becomes aesthetically pleasing. Which we are very happy about. During the decision-making process, we were hesitant about one thing: the colour. Marion (Van Zon, CEO) was worried black would be too dark. kreon assisted and ensured us the colour would work well by showing us examples in their showroom. As you can see we followed their advice. They were right! It works very well and we're very pleased with our decision."
"The optimal acoustics, the integration of techniques and lighting and the easy maintenance are the main benefits of this ceiling."
"In our opinion our new building definitely succeeded in its objective. An energy-neutral and CO2 neutral building with room for our activities and space for expansion, and at the same time a pleasant workspace for our employees. And as the indications show at the moment, our energy bill will not increase either."
"The only thing we hesitated about was the colour. But kreon assisted us very well during the decision making process. We are very pleased with the result."


---
Calculation results, Open office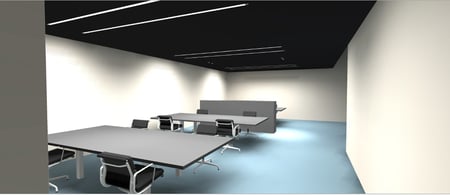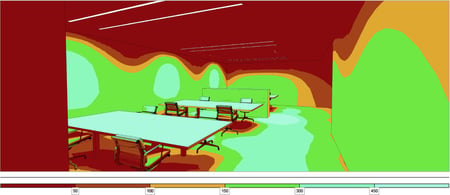 Luminance in the scene
Minimum: : 0 cd/mÇ
Maximum: : 200 cd/mÇ
Without consideration of the luminaire geometry
---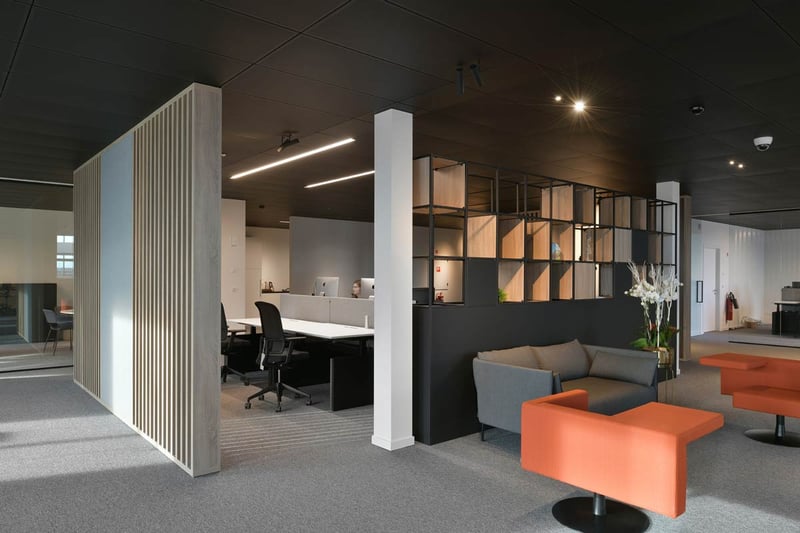 Geert De bruyn - energy efficiency expert:
Geert De bruyn was part of the building team to redesign the new head office for Horeca Van Zon in Lommel. "It was quite a challenge. The new building had to be 2.5 times bigger than the original without increasing the energy bill. The first results are looking promising but we will be able to make a real balance after one year and see if we succeeded."
How do you go about building bigger without increasing the energy bill?
Geert De bruyn: "With the help of research and looking at new techniques. In this particular case, we opted for a CO2 refrigeration plant in combination with geothermal energy. That's not a standard technology. The difference here was that the client was open to the idea. We had a previous collaboration with Van Zon in Beerse were we co-designed another establishment with the use of geothermal energy, with great success. This time we could go even further, and we used a different type of refrigeration plant. It was too soon for that during the previous build."
For the build, a potential expansion was kept in mind. How does this affect the energy supplies?
Geert De bruyn: "The energy supplies are equipped for a potential expansion. There is a reserve in the high voltage cabin as well as the room for additional energy consumers and additional charging stations or solar panels.."
"Energy was a decisive factor throughout the decision-making process."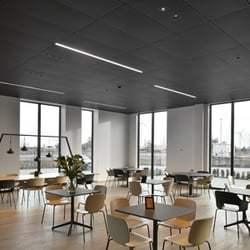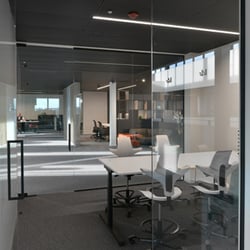 From an energy-efficiency and sustainable building expert point of view, are you pleased with the result at Horeca Van Zon?
Geert De bruyn: "It's important to set goals first, and next to check everything throughout the construction process against these goals. The target was clear: build bigger while keeping the energy invoice stable. It looks like we have succeeded. Throughout the decision making process we kept our focus on the goals that were set . The overall picture is present: a super-insulated building with efficient lighting, but also with heating and cooling that is compatible with residual heat at a low temperature and cooling at a high temperature. The vektron climate ceilings were a logical choice.
"Vektron climate ceilings are ideal to combine with geothermal energy as they utilize the residual heat. That was perfect here."
Why were vektron climate ceilings in this case the best solution?
Geert De bruyn: "To take full advantage of residual heat and geothermal energy, it is best – just as with heat pumps – to look for heat sources that cool at a high temperature and heat at a low temperature. Systems like underfloor heating systems and climate ceilings. There are different types of climate ceilings. The vektron systems were the perfect solution here because:
They are very efficient in terms of thermal dispersion.

They are a great architectural addition. It is an impressive design!

They are easy to disassemble. So you can still reach the systems that are installed above.
The combination of lighting, ventilation, audio… is a very nice bonus.
Ultimately the level of comfort reached with these climate ceilings is of great importance. After all, we are building offices to provide a healthy work environment. In this case, climate control is crucial. And of course we want to strive for good employee productivity and offer the right level of comfort at the lowest energy cost. This results in a win-win situation; sustainability and comfort as the ideal recipe for the client!"
vektron climate ceiling - technical details