Ceiling systems usually do not have a distinctive character. In daily life and in the architecture we see around us, it is seldom intended for a ceiling to attract attention. vektron wants to make these anonymous surfaces come alive. By using structure, relief and symmetrical shadows, we want to contribute to the desired effects of architecture in space. Ranging from peace or order to even chaos.
This way, Kreon develops and designs ceilings that give each room its own unique personality.
Kreon, synonymous with lighting
The perfect integration of our light fixtures in the vektron ceilings adds an extra dimension to the space of functionality, but also to discretion. So much attention is paid to the development of this range. Timeless design, perfect lighting and controlled luminance are the core values that we want to express in every project. This can only be done by applying the latest technologies in all our devices.

The promise of perfect integration and harmony means that our ceiling luminaires are available in a range of colors and are ready for quick installation. The plug and play adapters allow easy installation and limited service costs.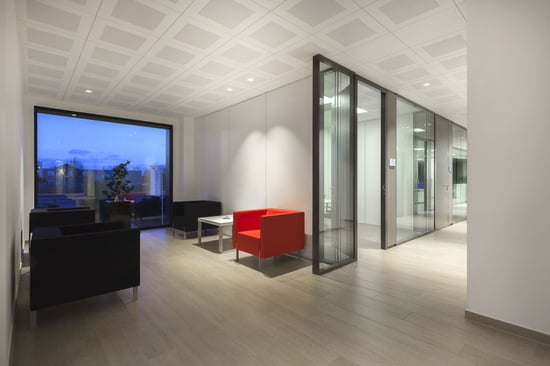 Invisible audio systems
Multimedia is no longer an excessive luxury in today's digital home and the way these systems are integrated in the room is getting more and more important. But how do we integrate a comprehensive, versatile speaker set without compromising space in the room?

With an integrated audio system, you can create an optimal sound experience without compromising the visual aesthetics of a room. Kreon speakers fit invisibly and easily on all of our ceiling systems to create a tight minimalistic whole.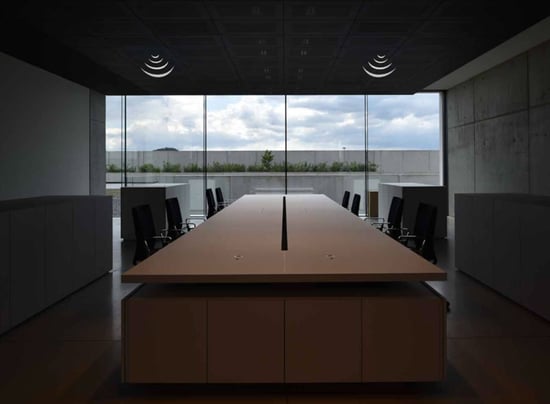 Exceptional ventilation that does more than just air out
Ventilation has become an essential part of each building design. However, this aspect is often translated into a purely technical solution which does not take into account design and architecture. The ventilation solutions available in the vektron product family come as an elegant response to an integration that is usually problematic in design or appearance and difficult to harmonize with space as a whole.

And we expect a lot from our ventilation systems: it must be comfortable, quiet, efficient and aesthetically pleasing. We try to meet all these requirements and more. Unlike other brands, our systems, integrated in the ceiling, allow for supply and drainage of both cooled and hot air.
Higher level c

limate solutions
Our vektron climate ceilings heat at low water temperatures and cool at high water temperatures. This makes the climate ceiling extremely suitable for heat pump applications, which has a positive effect on the energy performance of a building.

Cooling and heating by radiation is a major asset to your indoor comfort. The 'sickness syndrome', the term for health complaints through prolonged presence within a building, is completely removed. Typical complaints include irritation of eyes, nose or airways, itching, fatigue and loss of concentration. Complaints that can be easily avoided with our Kreon climate solutions.

The climate ceiling cools the room in two ways. On the one hand, heat from humans or objects is absorbed by the cool surface of the ceiling. On the other hand, the ambient air is cooled by convection. Air that cools down near the ceiling drops down, while warm air rises in space.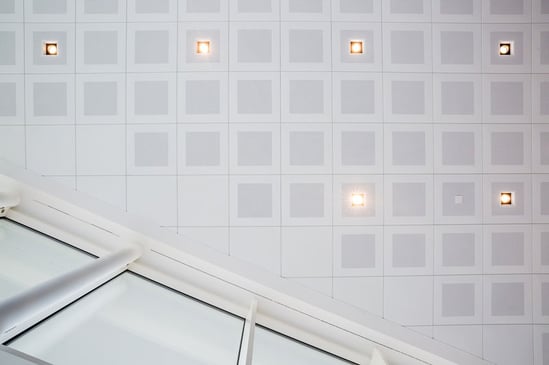 Green building solutions
A timeless design goes hand in hand with a long-term approach to our product developments. The choice for durable and recyclable materials, heating panels and LED lighting illumination gives vektron an advantage in green building projects.

Each vektron ceiling is:
Perfectly matched to the character and function of space.

Designed to distribute light, audio, HVAC and all other services.

Easily accessible for maintenance.

Flexible and ready for the future.
If you decide to choose vektron for your project, you can count on full support in planning, drawing, installation and integration.