Because kreon's architectural ceiling systems integrate climate control, ventilation, acoustic insulation and audio technologies in addition to lighting solutions, this division has just been given a brand name of its own: vektron.
More than lighting
Beauty is not created by adding details, but rather by eliminating them. Lighting manufacturer kreon has known this for years. You notice this not only in its sleek range of architectural lighting but also in its metal ceiling solutions. And because these ceiling elements increasingly integrate climate control, ventilation, acoustic insulation and audio technologies in addition to their lighting luminaire function, kreon's pillar for ceiling systems now gets a brand name of its own and it's called vektron. This in turn makes kreon a pure lighting brand once again.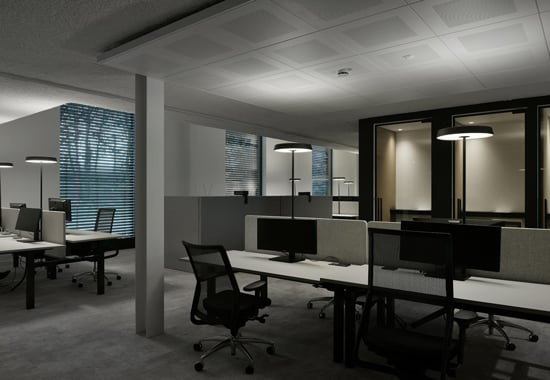 Extensive customisation
The ceiling systems henceforth called vektron accounted for around 25% of kreon's total sales in 2021. And as an independent brand, vektron will also position itself more as a provider of bespoke solutions for every project. After all, vektron's project management process is designed to guide architects and engineers through concept, planning and execution faster and flawlessly. At every stage of the project, vektron is the sole interlocutor for all parties involved. You can count on our full support from the initial design and specifications, during planning and coordination, and of course also during the execution of the construction works. Our consultants know the ins and outs of all markets. They have already been involved in the construction of stadiums, airports, healthcare projects and, of course, offices, among others.

When it comes to the dimensions of the metal ceiling tiles, we also deliver customised work. The days of a ceiling tile measuring 60 cm by 60 or 120 cm are well and truly over with vektron. Moreover, the solutions of vektron put an end to white lighting fixtures that turn out to be made of a slightly different shade of white than the ventilation grid, air conditioning or built-in speakers. With vektron, colour and finish fit together harmoniously and seamlessly.
Smart ceiling islands
The possibility of far-reaching customisation does not mean, however, that vektron does not offer standardised - yet flexible - ceiling systems. For example, the all-new vektron ceiling rafts incorporate both lighting (with built-in aplis 60 downlights) and acoustic insulation. After all, suspended ceilings affect the sound performance of a room and must therefore optimally meet the user's comfort requirements. Our vektron ceiling rafts integrate sound absorption up to a factor of 0.9 while guaranteeing sound attenuation of up to 47 decibels and are fitted with an acoustic fleece as standard. Furthermore, they offer an optimal and uniform light level of 500 lx on average at working surface height, while the glare factor is very low (UGR < 9).
Architectural freedom
Did it ever occur to you that architects, engineers, and other building professionals have more creative control over ceilings than walls and floors? After all, the final appearance of the latter two is heavily influenced by the user's décor and furniture, while ceilings are usually left untouched. This means that when it comes to ceiling design, you are more likely to be given free rein, and this is from both an aesthetic and functional point of view.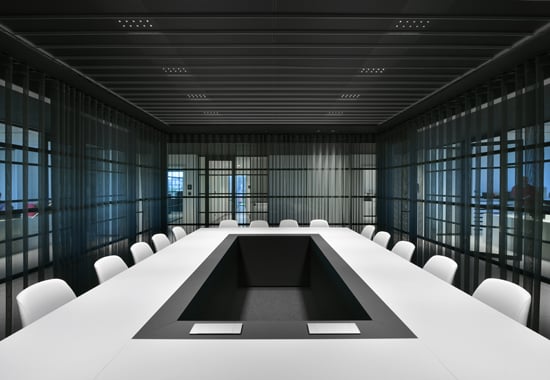 In everyday life, we may not pay much attention to ceilings. But with vektron, you can bring these inconspicuous surfaces to life. Texture, relief, and symmetrical shadow joints support the architectural rhythm of the room while creating calm and order.
As you can see, vektron ceiling systems combine various comfort solutions with high-performance lighting solutions, giving fuller meaning to architectural lighting.
Find out more about it here.