The importance of correct lighting in an area increases significantly. The placement, light color and color temperature really determines the atmosphere in a room. When designing your lighting plan, the correct light selection is therefore extremely important. A lighting designer can be particularly effective in telling a story by illuminating a room. But hiring a lighting specialist also has other advantages. We've listed them for you.
A lighting designer is a profound specialist
A lighting specialist does not choose lighting that only looks good. In order to define an ideal solution, they analyze a space while listening and respecting the end user's wishes, for an optimal lighting installation. Also, he will look after the importance of energy efficiency. He / she will always think ahead in order to meet the increasingly stringent energy standards and requirements for each project.
Professional lighting designers are hired for illuminating all types of spaces: galleries, shops, public spaces, residential apartments and so on. They are true experts and are familiar with what lighting effects can do. This makes their contribution to an architectural project extremely valuable.
Lighting professionals work cost efficiently
A lighting designer puts creativity before price. That helps you in two ways. They will not just choose the most expensive lighting. They are working hard on developing a good lighting plan and its implementation. If the final user has a particular budget in mind, the lighting designer also takes this into account. So in the long run, hiring a lighting specialist can also be cost-effective. Placing the correct lighting in a room affects the alertness of the final user for instance, by using warm or cold light in a particular room. It also influences, for example, the stress level of the end user.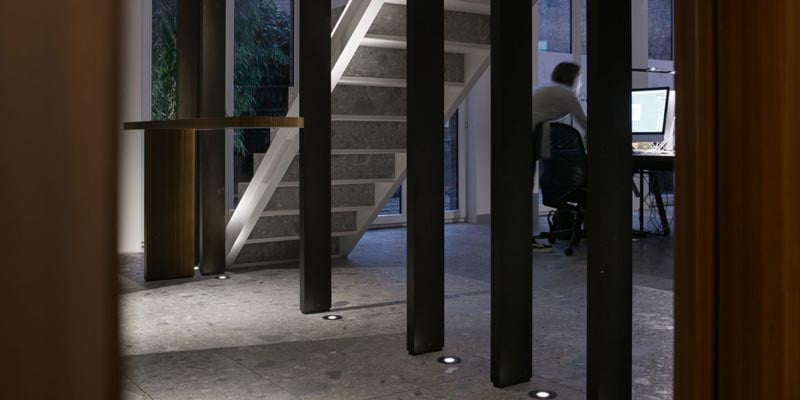 They fit perfectly in your team
Cooperation is crucial in construction projects. Hiring a lighting specialist will notably boost your project in different ways. They are always up-to-date on the latest lighting design techniques and technologies, architectural project design, development and production processes. A combination of all these skills makes them work very efficiently within your team. When a lighting designer is involved from the beginning of the construction project, he can easily support integrating lighting during the architectural process for functional lighting, such as office lighting or lighting for cooking. Afterwards, these steps can be discussed, along with the rest of the lighting design, with interior designers and/or electricians.
A light consultant works transparently
They do not only work closely within a team, they are also transparent to the final user. Lighting designers are profoundly asking what the current lighting situation is of the user, in order to understand the complete case. Furthermore, they ask more about what the final design should look like to make sure they respect the customer's wishes in the ultimate solution. They eventually communicate these wishes clearly to the team, to reassure everything will unfold smoothly and to avoid any last-minute contingencies.
Working with a lighting designer stands for qualitative work
A good lighting designer not only knows everything about illumination, but has technical knowledge about the related wiring and installation too. The project will meet the user's expectations eventually. In advance, the lighting specialist takes time to understand the complete design and layout of the user's house, without losing sight of their lifestyle and budget. Finally, they will look closer at details like light and dark areas, the furniture in the room and function and color of the room.
A lighting designer or lighting specialist can therefore be a huge asset to any architectural project. They are not only masters of their domain, they also look closely at both the current situation and the future vision of the end user. Due to the fact that they are always working transparently and closely within a team, each project can be quickly and accurately finalized.